White Chocolate: Style-maker, makes the scene and makes herself known in the hottest spots throughout Florida, including Miami, South Beach, Ocoee, Clarcona, Apopka, Pine Hills, Minneola, and Econlockhatchee.
Wednesday, March 29, 2006
What the hell happened to 2005??? The only thing I remember is getting my "hair did" for New Years Eve and the Butt Blaster Blowout @ GZ. I think I might have had a blast. Not sure. Woke up with seriously dirty-ass feet, blisters, and some nacho-and-champagne breath. Now it's 2006, and where are all the good parties at? My homie 5 Dolla's birthday is this weekend, though, so I plan to get my groove on. You hear that, 5 Dolla??? Par-tay.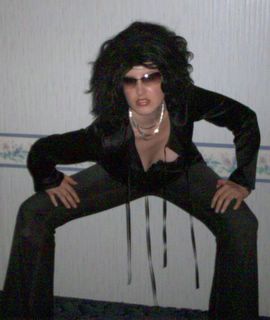 White Chocolate, the early days.